Webinar #2: Applied Biosystem's Extended RAS Research Assay on the SeqStudio Genetic Analyzer
This is the second topic in the Applied Biosystems SeqStudio Webinar Series, 'Sanger sequencing and fragment analysis made easy'.
Improving cancer patient care represents the driving force for next-generation molecular diagnostics. Having assays that perform better as well as instrumentation for clinical sequencing leads to higher data quality, which ultimately helps enable precision medicine to provide targeted treatments, reduce side effects and offer a superior clinical benefit.
In this talk, Dr. Luca Quagliata will introduce the new RAS panel and will specifically focus on the use of the Applied Biosystems SeqStudio Genetic Analyzer in routine molecular diagnostics applications. He will highlight the main advantages of this capillary electrophoresis (CE)–based platform as well as its current limitations. He will share the experience of his team working with the instrument and discuss their results.
Other topics in the webinar series include: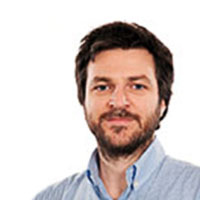 About the presenter
Luca Quagliata, PhD
Senior Director
University Hospital Basel

Dr. Quagliata is Senior Director of the Contract R&D Unit at the Institute of Medical Genetics Pathology, University Hospital Basel. He is formally trained in medical biotechnology and has a PhD in vascular medicine. Since moving back to Switzerland from the National Institutes of Health (NIH, Bethesda, US), Dr. Quagliata is leading the operations of the molecular diagnostics team and the newly established Contract R&D Unit, where he is responsible for the implementation of new technologies into routine diagnostics. Dr. Quagliata's substantial knowledge concerning sequencing of human samples is a significant contribution to the team's ultimate goal of helping to enable precision medicine. The molecular diagnostics team at the University Hospital Basel represents the largest hospital-based provider of diagnostic sequencing services in Switzerland with thousands of samples recently sequenced.
Complete the form to register for the webinar.

For Research Use Only. Not for use in diagnostic procedures.