Case studies from King Faisal Hospital and Mount Sinai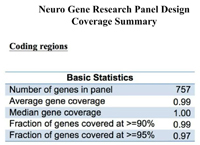 Recent advances in next-generation sequencing (NGS) have helped to accelerate the pace of discovery in the field of genetic disease research and testing.

Human genetic diseases are complicated as they can exhibit a lot of genetic and phenotypic variability. Researchers today can choose from numerous options to study diseases based on the levels of phenotypic heterogeneity observed; options include single-gene assays, gene panels, and whole-exome or whole-genome sequencing.

The decreasing costs of whole-exome and whole-genome sequencing have prompted most clinical research labs to offer these services for unraveling relevant variants. However, the high costs of data analysis and storage, and results from recent studies demonstrating the final variant yield of these broad approaches, have prompted a shift toward more targeted panels for studying genetic disease in a clinical research setting.
In this webinar, our expert speakers:
Discuss important considerations for designing targeted panels to study variants relevant to pediatric and adult-onset genetic diseases
Showcase specific examples to demonstrate the application of these panels in a clinical research lab
Speakers:
Dr. Brian Meyer
Chairman, Department of Genetics, King Faisal Specialist Hospital and Research Centre (KFSHRC)

Discusses the development and application of a set of 13 inherited disease research panels for studying the Arab populations

Dr. Robert Sebra
Director of Technology Development, Assistant Professor, Icahn School of Medicine at Mount Sinai

Discusses the application of a custom NGS panel for studying subjects enrolled in the Resilience Project
Fill out the form to view the webinar.