From Collection to Prosecution: Investigations Using Rapid DNA and a Local DNA Database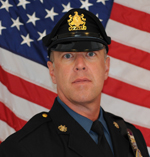 Glenn Vandegrift, Detective Sergeant of Forensics in the Criminal Investigations Division at Bensalem Township Police department, explains how Rapid DNA and local DNA databases can solve crimes faster.

With real case examples, Sergeant Vandegrift illustrates best practices for using this groundbreaking technology. He also shares first-hand experiences and answers questions on the use of Rapid DNA and a local DNA database.


Please fill out the form below to view the webinar