Explore a scalable, single-stage bioprocessing harvest step solution
Complete this form to download the white paper entitled "Simple, scalable single-stage harvest solution using chromatographic clarification technologies".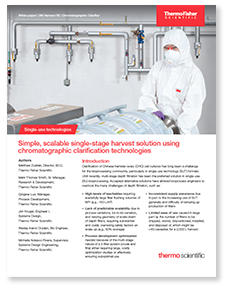 Authorized distributor of 3M™ Harvest RC
3M is a trademark of 3M Company
Read this white paper to learn more about the chromatographic clarification of Chinese hamster ovary (CHO) cell cultures and how it has been a challenge for the bioprocessing community, particularly in single-use technology (SUT) formats. Until recently, multi-stage depth filtration has been the preferred solution in single-use (SU) bioprocessing. Accepted alternative solutions have allowed bioprocess engineers to overlook the many challenges of depth filtration.