The Fluorophore and Reagent Selection Guide for Flow Cytometry is a handy reference poster featuring the broad range of Invitrogen labeling reagents available for flow cytometry. Obtain a free digital copy or print copy of the poster for your lab today.**
Please fill out the form below to download your digital copy or receive your printed copy of the poster.
Key features:
Recommended dyes for your flow cytometer based on lasers and detection channels settings
Dye recommendation for UV, Violet, Blue, Green, Yellow, Red and Near IR lasers
Checkout our specials—Brilliant Ultra Violet™ dyes, Brilliant Violet™ dyes and NovaFluor™ dyes; more dyes for spectral needs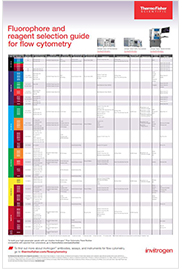 ** No purchase necessary. This promotion is available only to life science professionals 21 years or older in the US (excluding Puerto Rico) and Canada. The Fluorophore and Reagent Selection Guide for Flow Cytometry is available to eligible participants who register at thermofisher.com/flowreagentposter no later than December 15, 2022, or until gift supplies are depleted, whichever comes first. The estimated value of the poster is $1 US. One free gift per person. Healthcare professionals may not participate in this promotion. The term Healthcare Professionals includes individuals (clinical or non-clinical physicians (MDs and MD/Ph.D.s), physician assistants, nurses, technicians, research coordinators, administrators and purchasing personnel, etc.) and entities (including hospitals, rehabilitation centers, nursing facilities, home health agencies, clinics and group purchasing organizations, managed care organizations, physician group practices, medical directors for health insurance organizations, etc.) and their employees and representatives. By registering, you warrant that you are not prohibited by employment, contract, or law from accepting a gift Life Technologies. Offer void in where prohibited, licensed or restricted by federal, state, provincial, or local laws or regulation or agency/institutional policy. Other restrictions may apply.

BRILLIANT ULTRA VIOLET™ and BRILLIANT VIOLET™ are trademark or registered trademark of Becton, Dickinson and Company or its affiliates, and is used under license.